Top 6 Mayan Sites in Belize
Centuries ago, Belize was home to a robust and organized Mayan civilization with a popular of over two million. To this day we continue to unearth pieces of the past in the form of pottery, sacred temples, pyramids, and more. There are so many stunning Mayan ruins in Belize it can be hard to pick which ones to see and know which ones are worth your time to visit. Below are the top 6 Mayan sites in Belize that we recommend taking the time to visit on your next vacation to Belize.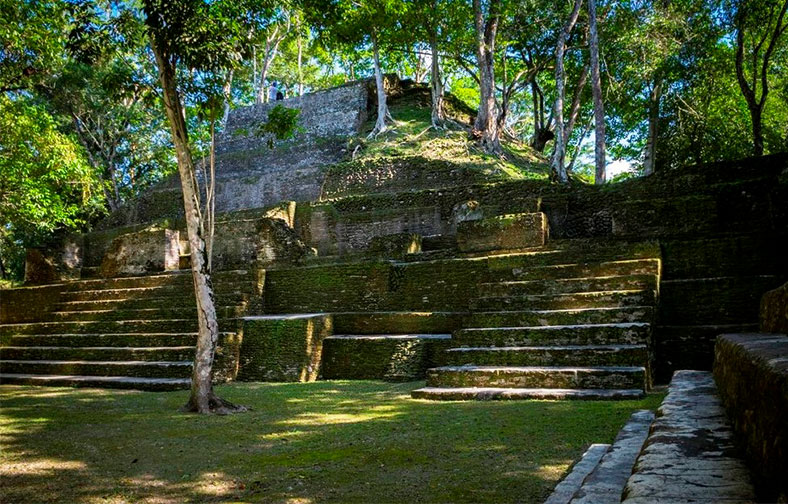 1. Cahal Pech
Cahal Pech "Place of Ticks" sits on a hill overlooking the twin towns of San Ignacio and Santa Elena, as well as the Macal River. It is one of the oldest recognizable Maya sites in Western Belize. Long ago, it served as home to wealthy Maya families. Original construction of the building dates to 1200 BCE, but it wasn't abandoned until 900 CE.
The location earned its name in the 1950's when archeologists used the land as a pasture during their first studies of the area. Today it is an archaeological reserve, complete with a museum that includes a growing collection of artifacts.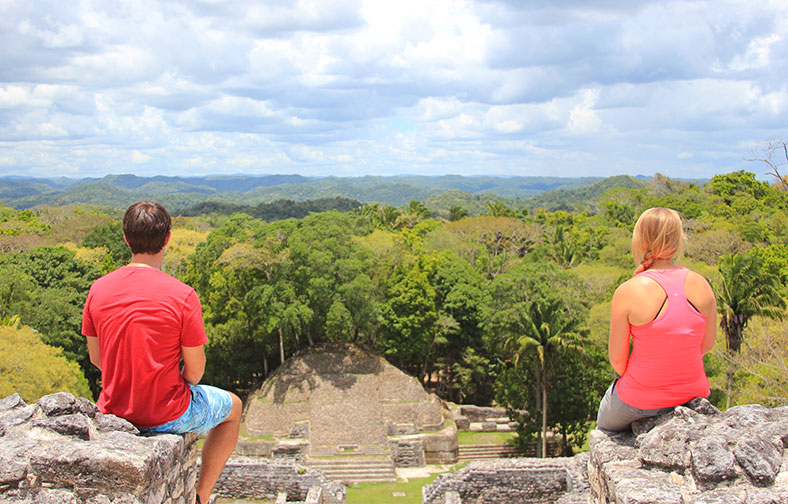 2. Caracol Mayan Ruins
Caracol Maya is the largest Maya city every unearthed in Belize. The massive site includes an incredibly intact temple that visitors can explore and even climb to the top to enjoy sweeping views. Caracol still has many secrets left to share as archeologists continue working to dig up new treasures.
Just as breathtaking as the site's mysterious history is the surrounding beauty of the Chiquibul Rainforest flora and fauna. Thanks to government funding, there are safe roads leading all the way to the site.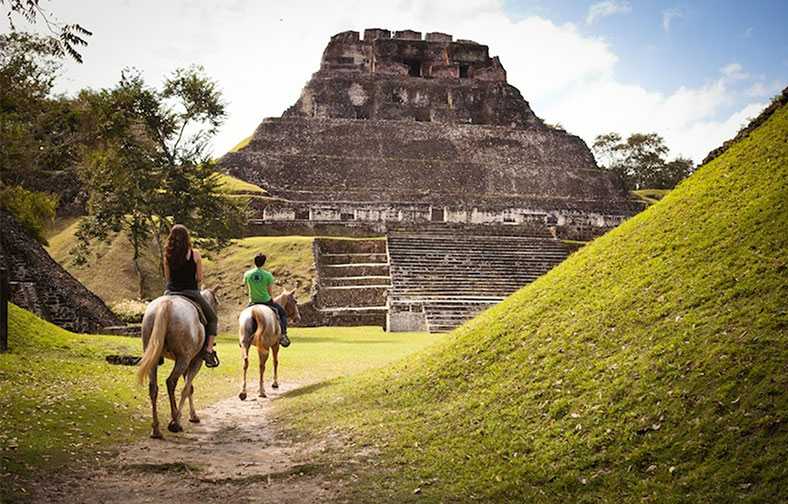 3. Xunantunich
Xunantunich, "maiden of the rock" or "stone woman" in Maya, is located on the Western Highway across the river from a village called San Jose Succotz. If you enjoy a mystical story with creepy origins, you must visit this Maya site. Legends say many people have reported seeing a woman dressed in traditional "pik" and "huipil" clothing standing near the mouth of the cave. No one has ever followed her into the cave, at least no one that's lived to tell about it.
Since the cave was originally explored in the 1800s, several noteworthy archaeologists have launched excavations of the site. The visitor center offers a detailed look at the history, layout and discoveries continually made here. The expansive site radiates out from an artificially leveled limestone ridge standing 183 meters (600 feet) above sea level. From the center, you can see remnants of civilizations long gone spread throughout the area. The epicenter has 4 main sites, the most popular of which is Group A, a 40-meter (131 feet) tall structure known as "El Castillo." It once served as a large dwelling, shrine and administrative hub for the elite rulers of the area. Directly below the site sits the raging Mopan River, a fun place to enjoy kayaking, inner tubing and canoeing. 
Xunantunich is on the direct route to Tikal in Guatemala.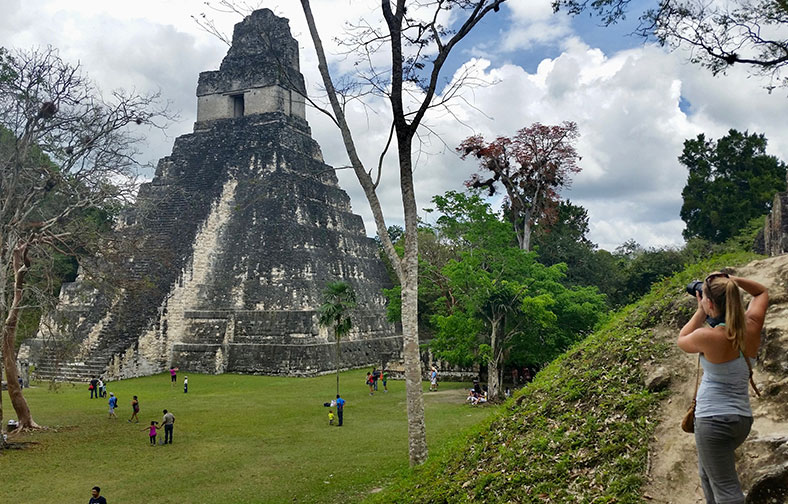 4. Tikal
Tikal is in Guatemala but is a doable day trip from Belize. Xunantunich is on the same route to Tikal, so if you're planning a trip to Tikal you might as well stop at Xunantunich along the way. Tikal is situated in the lush rainforests of northern Guatemala. The area is believed to date back as far as the 1st century A.D., and reached its peak between 200 and 850 A.D. before it was left abandoned. Famous ruins at this site include the Lost World Pyramid and the Temple of the Grand Jaguar. Temple IV stands 70 meters (229 feet), making it the tallest pre-Columbian structure in the Americas.
Tikal thrived for many centuries as a noteworthy cultural, ceremonial and commercial center. The large temples were built during the eighth century AD, at which time Tikal is believed to have been the largest city in the Maya world with as many as 100,000 residents. The city fell into decline and was eventually abandoned at the end of the ninth century. While the exact cause has never been identified, a combination of war, poverty, overpopulation and resource depletion have been cited as plausible factors.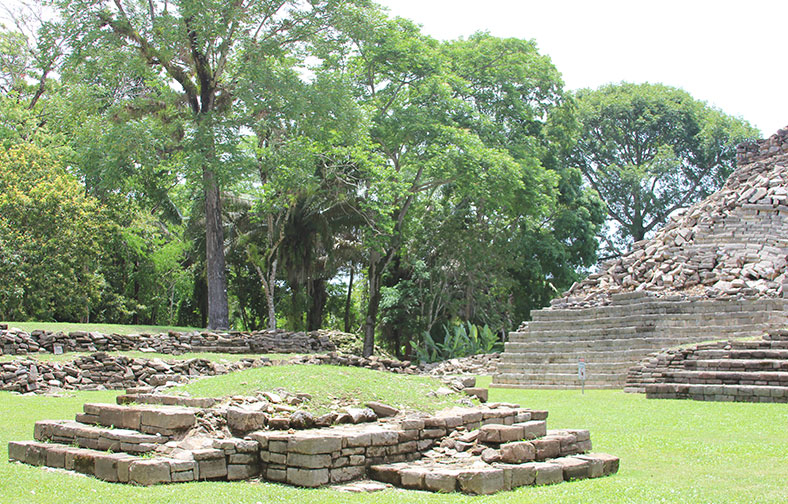 5. Lubaantun
Welcome to the largest Maya site in southern Belize! Lubaantun is a pre-Columbian ruined city once inhabited by Maya civilizations. Construction dates to 700-900 AD. There are 11 large structures and 5 main plazas along with 3 ball courts. The area is believed to have served as an administrative, religious, commercial, and political region.
In 1926, Anna Mitchell-Hedges, the daughter of archeologist F. Mitchell-Hedges, supposedly discovered a now controversial crystal skull while exploring the region on her seventeenth birthday. While the origin of the perfectly shaped human skill carved from an 8-inch cube of rock crystal remains a mystery, Anna still possess the skull at her home in Canada.
Bonus tip: Belcampo is an amazing hotel in the area, located a short 20 minutes away from the Lubaantun site.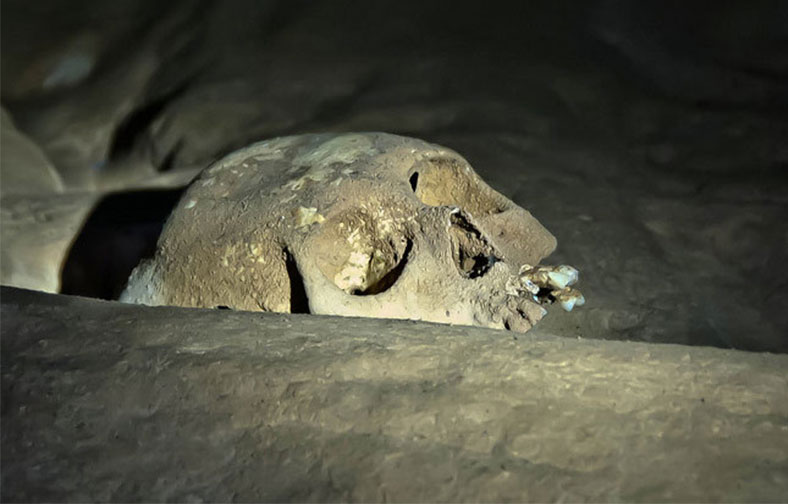 6. Actun Tunichil Muknal (ATM Cave)
Exploring any cave is cool, but exploring a cave with this much history is surreal. Actun Tunichil Muknal, known locally as the ATM cave, is located near San Ignacio, Cayo District. The cave is an important Maya archeological site where skeletons, stoneware, ceramics and other artifacts tell stories of the past. Before the cave was discovered in 1989, it remained untouched for an estimated 1,000 years. The cave opened to visitors in 1998. It spans several kilometers in length with multiple chambers; you could spend hours walking, climbing, swimming and exploring the cave. 
Other incredible Maya ruins in Belize:
Free Help Planning Your Perfect Belize Vacation
Take the guesswork out of the equation by letting us take care of the details! We create custom travel packages to Belize completely free of charge to you. You tell us what you want to see, what types of activities intrigue you (Mayan ruins, snorkeling, zip-lines) and we'll create a customized Belize vacation package you'll be sure to love. Contact us today to learn more and start planning your next adventure!